SHOULD I LIQUIDATE, DONATE, REMOVE, OR DISPOSE OF MY EXCESS AMAZON INVENTORY?
SHOULD I LIQUIDATE, DONATE, REMOVE, OR DISPOSE OF MY EXCESS AMAZON INVENTORY?
You love your amazon product and have no idea why it's not selling. You invested your savings, marketed it to the best of your knowledge, and have hundreds or even thousands of units racking up expensive long-term storage fees. What should you do?
We hope you never find yourself with low IPI scores and excess inventory. If you do, you need to think strategically about the future of the items in question. Do you want to keep promoting these items in the future? Are they seasonal and does it make sense to remove and send in during different seasons? Do you have the warehousing and organizational capacity to receive the units back?
Many Charities, Non Profits, Shelters, Animal Shelters, Churches, Even for profit Liquidators will be happy to accept or purchase your excess or non selling items from your online store.
If you request Amazon to dispose of your items either 1 of several things will happen.
Potential destruction and thrown into a dumpster for landfill or incinerator waste.
possible it may be sold or given to a liquidator to be sold online or as a liquidation pallet.
possible but rare donated to an organization that amazon works with, and I mean very rare even though they brag they donate many items. the percentage is minimal for direct disposal donations.
The last thing we want to do as business owners after sacrificing so much to present our product to customers on Amazon is to destroy our inventory. But as you might know, Amazon's long-term storage fees (LTSFs) can get mighty expensive. Sometimes it's better to stop losing money and destroy your inventory so you can live to see another Amazon day. LTSFs are like termites that eat the money tree you build your Amazon tree-house in. It's dangerous to keep that tree; sometimes you need to clear the land and replant a new kind of money tree. What does this cost?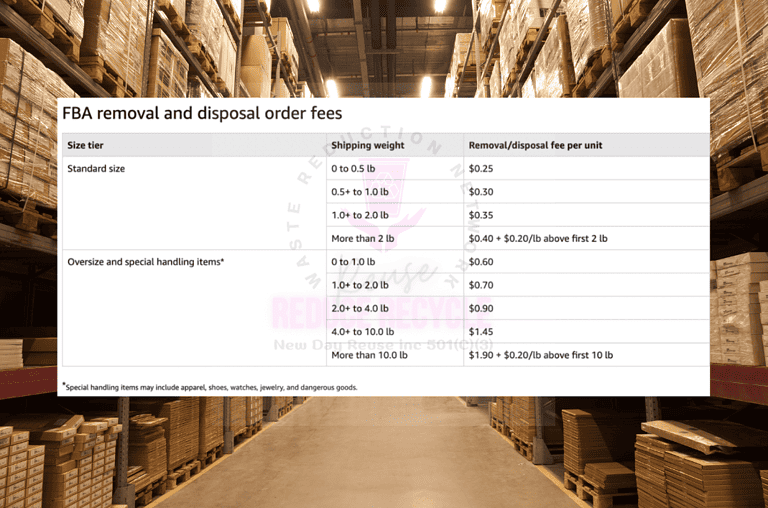 SHOULD I LIQUIDATE, DONATE, REMOVE, OR DISPOSE OF MY EXCESS AMAZON INVENTORY?
The decision of what to do with excess Amazon inventory depends on various factors such as the nature of the products, your business goals, financial situation, and ethical considerations. Here are some options you can consider:
Liquidate: If you need to quickly recoup some of your investment, you might consider selling your excess inventory at a discounted rate. This can help you generate some revenue and clear out space for more profitable products. You could use platforms like B2B liquidation marketplaces, or even hold your own sale events.
Donate: Donating excess inventory to charitable organizations or nonprofits can be a socially responsible option. It can also provide tax benefits, as some countries allow tax deductions for charitable donations. Make sure the products are appropriate for donation and can be of value to the recipients.
Remove: If the excess inventory includes products that are outdated, damaged, or unlikely to sell in the foreseeable future, you might want to consider removing them from your Amazon inventory. This can help streamline your listings and make your inventory more manageable.
Dispose: If the products are damaged, expired, or cannot be used by anyone else, you might need to consider proper disposal methods. Depending on the type of products, you may need to adhere to environmental regulations for disposal.
Hold: Depending on the seasonality of your products or potential changes in demand, it might make sense to hold onto some excess inventory for a while and monitor the market for changes. However, this should be a strategic decision to prevent tying up your resources unnecessarily.
Bundle or Package: If you have related products that could be bundled together, it might help increase their appeal and sell them as a package. This can be a creative way to move excess inventory while providing value to customers.
Market Research: Before making a decision, it's essential to conduct market research to understand the potential demand for your excess inventory. If there's a chance that the products could become popular again or be used for a different purpose, it might be worth holding onto them.
Return to Supplier: Depending on your agreements with suppliers, you might be able to return excess inventory to them. This could be an option if the products are still in good condition and fall within the return policy.
Sell on Other Platforms: Consider expanding your sales channels beyond Amazon. You might be able to sell your excess inventory on other e-commerce platforms, your own website, or even through local retailers.
Ultimately, the right choice depends on your specific situation and business goals. It might also be a good idea to consult with financial advisors, business consultants, or experts in your industry to get tailored advice based on your circumstances.
Benefits of Donating my Amazon Inventory Disposals?
Donating excess Amazon inventory can have several benefits, both for your business and for society as a whole. Here are some of the key benefits of donating your inventory instead of disposing of it:
Social Responsibility and Ethical Impact: Donating excess inventory demonstrates your company's commitment to social responsibility. By contributing to charitable causes, you can positively impact communities in need and support nonprofit organizations working for the betterment of society.
Positive Brand Image: Engaging in charitable activities and donations can enhance your brand's image. Consumers tend to support businesses that show a commitment to giving back, which can lead to increased customer loyalty and positive word-of-mouth referrals.
Tax Benefits: Depending on the tax laws in your jurisdiction, donations of inventory to eligible charitable organizations may be tax-deductible. This can provide financial benefits to your business by reducing your taxable income.
Clearing Inventory Space: Donating excess inventory helps you clear out storage space and streamline your operations. This can lead to better organization, improved efficiency, and a more optimized inventory management process.
Avoiding Disposal Costs: Disposing of inventory, especially if it's hazardous or needs special handling, can be costly. By donating, you avoid these disposal costs, contributing to potential cost savings for your business.
Building Relationships: Partnering with nonprofit organizations can help you build valuable relationships within your community. This can lead to networking opportunities, collaborations, and partnerships that can benefit your business in the long run.
Supporting Nonprofits: Charitable organizations often rely on donations to fund their activities. By donating excess inventory, you're providing them with resources they can use to fulfill their missions and make a positive impact.
Employee Morale and Engagement: Involving your employees in donation initiatives can boost their morale and sense of purpose. Many employees appreciate working for a company that actively gives back, which can contribute to higher job satisfaction and engagement.
Environmental Impact: Donating inventory reduces the need for new production, which can have positive environmental implications by conserving resources and reducing waste.
Helping Those in Need: Perhaps the most significant benefit is the direct impact on individuals or communities in need. Your donated products can provide essential goods to people who might not have access to them otherwise, improving their quality of life.
When considering donating your Amazon inventory, it's important to research and partner with reputable nonprofit organizations that align with your values and goals. Make sure the products you donate are appropriate and can genuinely benefit the recipients. Additionally, keep accurate records of your donations to ensure you can take advantage of any potential tax benefits.
Information for this post was gathered from various sources across the internet, And AI requests.